Level 2/3 - Vinyasa
This class is taught by:
Trudi Hawke, RYT-200
Trudi first sought out yoga after being diagnosed with Multiple Sclerosis in 2010. Encouraged and empowered by how the vinyasa practice helped to counter her physical limitations, as well as its ability to enhance the connection between, mind, body and spirit, she completed her 200-hr Yoga Alliance approved teacher training in 2012 at Yogafly Studio.
Trudi has been teaching vinyasa yoga for over 3 years and continues to serve the community through private group sessions and workshops. Her classes are physical, informative and often playful with a dose of inspiration. Her students have ranged from brand-newbies to elite athletes. She believes wholeheartedly in the physiological benefits of yoga, and that it is one of the best tools for each of us to gain a deeper understanding of ourselves.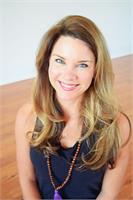 Rebecca Rice, RYT-200
Rebecca is an Alabama native, wife and mother of two. She has been practicing yoga since 2010 and has been teaching yoga since 2012. Her classes are challenging, supportive, and full of joy. She loves teaching all levels classes and helping students explore the amazing things their bodies can do! In her classes there will be music, laughter, and an atmosphere of encouragement.
Rebecca is also a part-time writer. You can read some of her work by clicking here.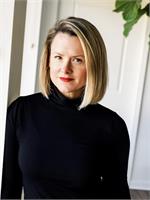 Sarah Stanley, Studio Manager, RYT - 200
Sarah came to The Great State of Alabama after growing up in Metro Atlanta. She is a wife and mother to two daughters. While pregnant with her first, she found yoga and has continued her practice through her second pregnancy and onto this day. Sarah loves vinyasa yoga for the flow, the linking of breath with movement. She loves a big transition and finding the poses between the poses. "I adore new students! They tend to come in a bit hesitant, but teaching them and seeing them get comfortable and watching the light bulbs go off over their heads is just fantastic!" Sarah teaches a class that moves and flows, but also is conscientious of alignment and proper form. You'll love her class if it's your 1st or 101st, because she takes students step by step through postures to reach a peak pose, allowing a place for each student to work. With Sarah, you'll get a class that is fun, open, physically challenging, and with a little yogic philosophy sprinkled on top to help you through your practice and out into the world.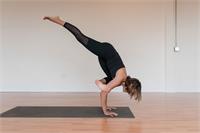 This is a warm Vinyasa Flow with the studio space heated to around 82 degrees. The class is geared towards students who have a foundational vinyasa practice already and are looking to grow more through some challenging asana. Students will flow through a creative progressive sequence to prepare for the offerings of arm balances, inversions and/or interesting transitions from pose to pose. Attention to your breathe will be important as the dynamic sequence will reach a one-breath-per-movement pace at times. Come with a playful spirit, a desire to explore your edges, and to embrace the opportunity to deepen your knowledge of yourself!
Upcoming classes: