Upcoming Courses & Workshops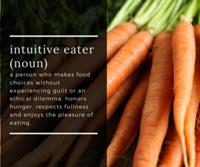 Intuitive Eating Workshop

with

Martha Lee Ann

Baugh
Next held on Sat, Aug 19, 2017 at 1:00 pm - 4:00 pm
This
enrollment
runs from Sat Aug 19, 2017 - Sun Aug 20, 2017
IMAGINE A LIFE OF NOTHING BUT LOVE FOR FOOD AND YOUR BODY! Sadly, this is a concept that seems completely out of the question for a large majority of women in our culture. But it's the very idea behind intuitive eating!
What if you were told that your body has a genetic weight that was determined at the very moment you were conceived and that when fueled and nourished properly, your body is built to work so efficiently that it will stay at that set genetic weight? What if you were told that the proper fuel and nourishment included ALL of the food groups?! And yes, that means CARBS! What if you were told that it all boils down to your body's hunger cues? Eat what your body needs when you are hungry and stop eating when you are full. Sounds simple enough, right?
Well it is simple, but that doesn't mean it's easy. In fact, it's extremely difficult to turn off what we've believed our entire lives and quite frankly, what we are bombarded with every single day. But just like yoga, intuitive eating is a practice. It's a practice of mindfulness and discipline that just like with everything else that is practiced, becomes easier and stronger in time.
Step one - gather information! Get the tools needed to start your quest for love and appreciation for food and most importantly, your body! The body that is YOURS and only YOURS! The one that was determined for you in in the womb. It's the one you were always meant to have and it is perfect and works perfectly.
If I'm speaking to you, register for our INTUITIVE EATING WORKSHOP WITH REGISTERED DIETICIAN, MARTHA LEE ANN BAUGH. Come get the tools you need to begin this practice.
Saturday, 1:00-4:00: Learn science-based reasons a dieting mentality sets you up for failure.
Sunday 1:00-4:00 - Learn all about intuitive and mindful eating and the many benefits it offers to your WHOLE health!
Cost $85


Learn More