Chrissy Downing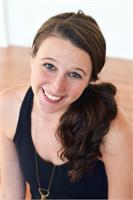 Chrissy took her first yoga class in 2009 after much encouragement from her sister. She spent several hours afterward gushing about new-found body awareness and a sudden ability to sit up straight. She still finds the meditative quality of alignment to be one of the best ways to explore postures, build focus, and still the mind. "When I'm really focusing on a particular component of a pose, I'm totally absorbed and distractions fade away." She strives to create that experience for her students, using precise cues and thoughtful sequencing. In her class, expect a balance of strength, flexibility, and relaxation. She uses a combination of dynamic movement and longer holds culminating in a 'peak posture' in order to invite learning and exploration. And expect options––lots and lots of options––because she believes that students know what serves them best.
Chrissy Downing instructs the following:
This class offers a progressive sequence of poses where breath is linked to movement. Classes begin with simple, but dynamic postures, then gradually build to more complex poses and longer holds, eventually landing on a peak pose that the body has been adequately prepared for. Vinyasa offers endless variety, but the objective remains the same – to not only balance the body and mind, but to create a union of the two. Each flow is challenging, but accessible, balancing, lively, grounding, and playful. All levels are welcome.