Hadley Battles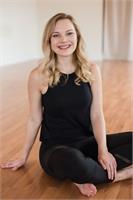 Hadley is originally from Graceville, FL. She came to Auburn in 2013 to pursue her nursing degree, fell in love with the town and never left. She came to The Yoga Room in 2017 as a student, and quickly fell in love with the studio as a whole, and with Pound as a cardio counterpart to her yoga practice. Hadley began teaching Pound in January 2018.
"What I love most about Pound is the way it truly is for any age, any stage. It meets you right where you are, whatever your age or fitness level may be, and provides you with the opportunity to take care of yourself, and hopefully have a lot of fun while you're doing it!"
Her goal is to make her classes a place where students can let loose, not take themselves too seriously, and feel empowered by the music and the work their body is doing.
Hadley Battles instructs the following:
POUND is a full-body cardio jam session, combining light resistance with constant simulated drumming. The workout fuses cardio, Pilates, strength movements, plyometrics and isometric poses. Through continual upper body motion using our lightly weighted exercise drumsticks, called Ripstix, you'll turn into a calorie-torching drummer, POUNDing off pounds as each song flies by! Accessible to all ages, body types, and fitness levels!