Emily Bass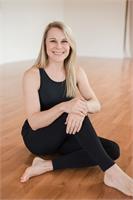 Emily is originally from Headland, AL. She is married to McKinley Bass and is a first grade teacher. Emily started doing Pound in the summer of 2017 and fell in love with it. She loves Pound because it is a fun, energizing cardio jam session for all body types and all ages. No matter what you come into Pound with, you'll leave smiling and ready for more.
Emily Bass instructs the following:
POUND is a full-body cardio jam session, combining light resistance with constant simulated drumming. The workout fuses cardio, Pilates, strength movements, plyometrics and isometric poses. Through continual upper body motion using our lightly weighted exercise drumsticks, called Ripstix, you'll turn into a calorie-torching drummer, POUNDing off pounds as each song flies by! Accessible to all ages, body types, and fitness levels!