Rachelle Craig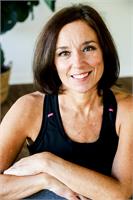 Rachelle attended her first yoga class in 2012 and was immediately intrigued. She became more serious about her practice when she moved to Auburn in 2015 and completed her 200-hr Yoga Alliance approved teacher training in 2017 at Yogafly studio. Since that time, she has shared her passion for yoga by teaching both high school and college students, as well as children and adults with disabilities. Rachelle is a high school special education teacher and a mom to two adult daughters. She firmly believes that the practice of yoga can be both physically and emotionally applicable and beneficial to all persons. Her vinyasa flow class focuses on basic postures with emphasis on building awareness of the breath and body. Her classes are moderately-paced and designed to be appropriate for both beginning and continuing level students.
Rachelle Craig instructs the following:
This class offers a progressive sequence of poses where breath is linked to movement. Classes begin with simple, but dynamic postures, then gradually build to more complex poses and longer holds, eventually landing on a peak pose that the body has been adequately prepared for. Vinyasa offers endless variety, but the objective remains the same – to not only balance the body and mind, but to create a union of the two. Each flow is challenging, but accessible, balancing, lively, grounding, and playful. All levels are welcome.




This class is highly recommended for anyone brand new to yoga. Here you will become comfortable in your practice as you gain knowledge of basic poses and their most fundamental alignment principles.