Sarah Stanley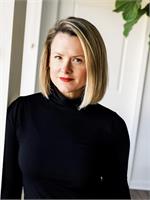 Sarah Stanley, Studio Manager, RYT - 200
Sarah came to The Great State of Alabama after growing up in Metro Atlanta. She is a wife and mother to two daughters. While pregnant with her first, she found yoga and has continued her practice through her second pregnancy and onto this day. Sarah loves vinyasa yoga for the flow, the linking of breath with movement. She loves a big transition and finding the poses between the poses. "I adore new students! They tend to come in a bit hesitant, but teaching them and seeing them get comfortable and watching the light bulbs go off over their heads is just fantastic!" Sarah teaches a class that moves and flows, but also is conscientious of alignment and proper form. You'll love her class if it's your 1st or 101st, because she takes students step by step through postures to reach a peak pose, allowing a place for each student to work. With Sarah, you'll get a class that is fun, open, physically challenging, and with a little yogic philosophy sprinkled on top to help you through your practice and out into the world.
Sarah Stanley instructs the following:
This class offers a progressive sequence of poses where breath is linked to movement. Classes begin with simple, but dynamic postures, then gradually build to more complex poses and longer holds, eventually landing on a peak pose that the body has been adequately prepared for. Vinyasa offers endless variety, but the objective remains the same – to not only balance the body and mind, but to create a union of the two. Each flow is challenging, but accessible, balancing, lively, grounding, and playful. All levels are welcome.