Trudi Hawke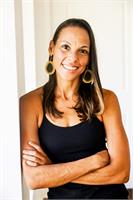 Trudi Hawke, RYT-200
Trudi first sought out yoga after being diagnosed with Multiple Sclerosis in 2010. Encouraged and empowered by how the vinyasa practice helped to counter her physical limitations, as well as its ability to enhance the connection between, mind, body and spirit, she completed her 200-hr Yoga Alliance approved teacher training in 2013 at Yogafly Studio.
Trudi has been teaching vinyasa yoga for nearly 5 years and continues to serve the community through private group sessions and workshops. Her classes are physical, informative and often playful with a dose of inspiration. She believes wholeheartedly in the physiological benefits of yoga, and that it is one of the best tools for each of us to gain a deeper understanding of ourselves.
Trudi Hawke instructs the following:
This class is all about building a flow rather than finding a peak pose. Each month will feature a new sequence to be repeated every week. This practice and its continuous dynamic will give you a great opportunity to notice your gains in strength and flexibility from week to week; as well as really encourage your spirit to move meditatively.




This is a warm Vinyasa Flow with the studio space heated to around 82 degrees. The class is geared towards students who have a foundational vinyasa practice already and are looking to grow more through some challenging asana. Students will flow through a creative progressive sequence to prepare for the offerings of arm balances, inversions and/or interesting transitions from pose to pose. Attention to your breathe will be important as the dynamic sequence will reach a one-breath-per-movement pace at times. Come with a playful spirit, a desire to explore your edges, and to embrace the opportunity to deepen your knowledge of yourself!




This class offers a progressive sequence of poses where breath is linked to movement. Classes begin with simple, but dynamic postures, then gradually build to more complex poses and longer holds, eventually landing on a peak pose that the body has been adequately prepared for. Vinyasa offers endless variety, but the objective remains the same – to not only balance the body and mind, but to create a union of the two. Each flow is challenging, but accessible, balancing, lively, grounding, and playful. All levels are welcome.