Rebecca Rice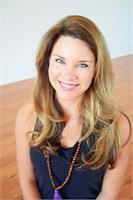 Rebecca Rice, RYT-200
Rebecca is an Alabama native, wife and mother of two. She has been practicing yoga since 2010 and has been teaching yoga since 2012. Her classes are challenging, supportive, and full of joy. She loves teaching all levels classes and helping students explore the amazing things their bodies can do! In her classes there will be music, laughter, and an atmosphere of encouragement.
Rebecca is also a part-time writer. You can read some of her work by clicking here.
Rebecca Rice instructs the following:
This class offers a progressive sequence of poses where breath is linked to movement. Classes begin with simple, but dynamic postures, then gradually build to more complex poses and longer holds, eventually landing on a peak pose that the body has been adequately prepared for. Vinyasa offers endless variety, but the objective remains the same – to not only balance the body and mind, but to create a union of the two. Each flow is challenging, but accessible, balancing, lively, grounding, and playful. All levels are welcome.




This is a warm Vinyasa Flow with the studio space heated to around 82 degrees. The class is geared towards students who have a foundational vinyasa practice already and are looking to grow more through some challenging asana. Students will flow through a creative progressive sequence to prepare for the offerings of arm balances, inversions and/or interesting transitions from pose to pose. Attention to your breathe will be important as the dynamic sequence will reach a one-breath-per-movement pace at times. Come with a playful spirit, a desire to explore your edges, and to embrace the opportunity to deepen your knowledge of yourself!