Christina Kirby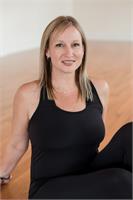 Christina Kirby, RYT - 200
Christina has been a yoga teacher since 2013. While she practices various forms of yoga as an eternal student, she loves teaching Yin Yoga because she believes it provides a divine way to balance the busy, burning energy that dominates our lives. "Yin is the other half of the physical element of yoga and in order to truly access all the benefits of asana, it should be a part of every yogi's practice." Christina designs her classes making sure they are accessible for ALL bodies and ALL levels of experience.
Christina is also a mom, a wicked number cruncher, and closet hippie.
Christina Kirby instructs the following:
This class is passive and restorative. You will learn how to relax your muscles in order to improve mobility and the overall health of your joints. Poses are held for 3-5 minutes in order to get deep into the connective tissues. Yin is recommended if you are over the age of 35, an athlete, sore, stiff, or tense. Yin also teaches breathing techniques that help improve mood, sleep, and mobility. Props will be used to encourage proper alignment and hands-on assist will allow for deeper relaxation. This is an all levels class.